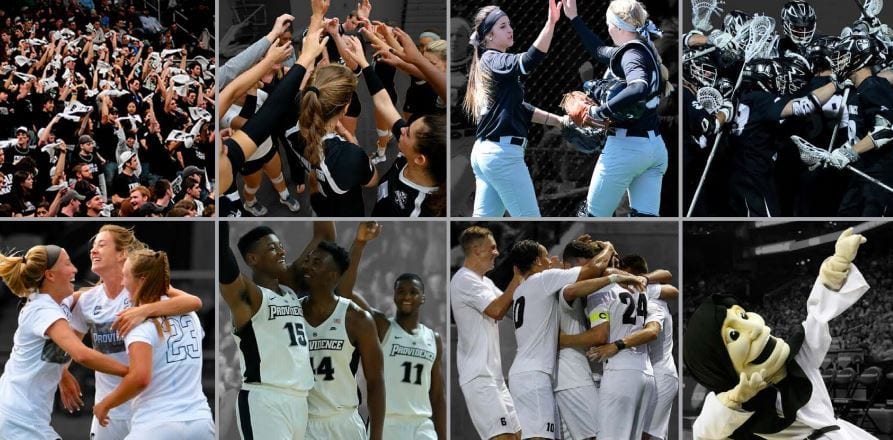 Information for Prospective Student-Athletes
Division I Athletics
As the smallest school in a major athletic conference, Providence College student-athletes compete at the highest level. The College offers eight men's and 11 women's varsity sports, all at the Division I level, with membership in the NCAA, the BIG EAST Conference and the Hockey East Association.
Recruiting at Providence College is selective. Our coaches are always on the lookout for prospective student-athletes who can find success in competition, while also handling the rigors of our liberal arts curriculum. The coaching staff of each program holds the final decision on roster placement and the awarding of scholarships. Students wishing to compete at Providence College are encouraged to be in touch with the appropriate coach.
Additional Information for Prospective Student-Athletes from the Athletic Department
Competing Outside Division I
Providence College offers an extensive club sports program that allows members of our student body to who do not want the commitment of high level athletics, but still have the competitive drive and desire to compete against other colleges and universities. Club sports are non-varsity teams and organizations which employ coaches, play and practice using the College's facilities, and are members of various leagues competing against club and varsity teams of other schools.
Intramural Sports and Staying Active
The Intramural Athletic Board (I.A.B.) consists of students dedicated to organizing and overseeing the general flow of intramural sporting activities. The members of IAB work to create a competitive, fun, and engaging atmosphere for all students who want to continue their athletic careers into college without the commitment of Division 1 or club sports. Providence College also offers state of the art fitness facilities and classes available to all students on our campus.