Lydia Watson '22
Global studies
Marketing, Spanish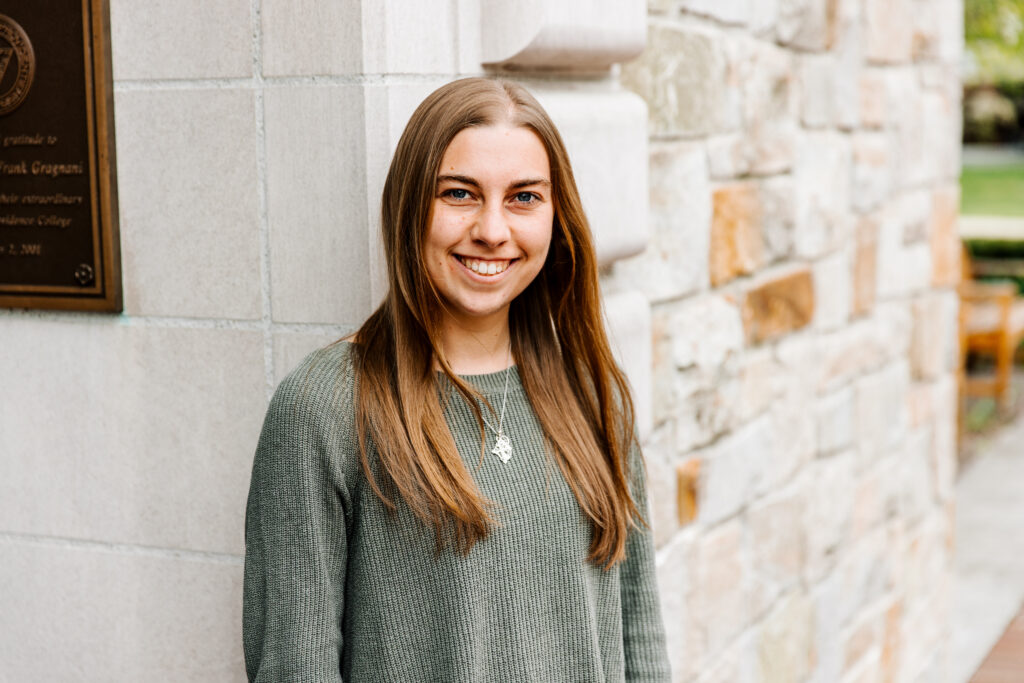 For college students, anxiety is an unwelcome visitor. Worries about family and friends, maintaining new relationships, and getting good grades can be overwhelming at times.
Lydia Watson '22, who came to Providence College from a public high school in Fairfax, Va., found calm by visiting an empty St. Dominic Chapel during the busiest of days.
"The chapel is a place of peace and rest," Lydia said. "There are so many things on campus to get involved in, but I really need to take time for myself and my relationship with God. Even on such a big campus, sometimes you can find a time when it's just you, and it's so quiet you can hear the creaks of the chapel. I can just relax and center myself."
Lydia majored in global studies with two minors, marketing and Spanish. She played intramural ping pong and inner tube water polo, swam on the club swim team for two years, and was a member of the Irish Dance Team for four. But some of her most formative experiences came through Campus Ministry, including one that helped determine her future career path.
Lydia volunteered to teach religious education classes and offer retreats for young people at two Rhode Island parishes, St. Brendan in Riverside and St. John Vianney in Cumberland.
"I loved teaching the faith," Lydia said. "I began to think, 'Where could I do something like this for the whole academic year?'"
She found the answer through Seton Education Partners. She will spend a year teaching at Romero Academy at Resurrection in Cincinnati, a nonprofit that prepares students from pre-kindergarten through eighth grade to attend the city's most selective high schools.
Lydia never thought about a teaching career before college, but "God had other plans. I love kids. I like to be creative. I don't want to be in an office space."
Majoring in global studies opened her eyes to what it means to be a citizen of the world. She chose Dialogue, Inclusion, and Democracy as her sophomore Development of Western Civilization colloquium.
"It's the class that helped me grow the most," Lydia said. "We talked about how Black students and other students of color experience race. It was a super brave and safe space. I learned so much and met so many cool people."
More about Lydia: