Liz Duffy '23
Theology, Humanities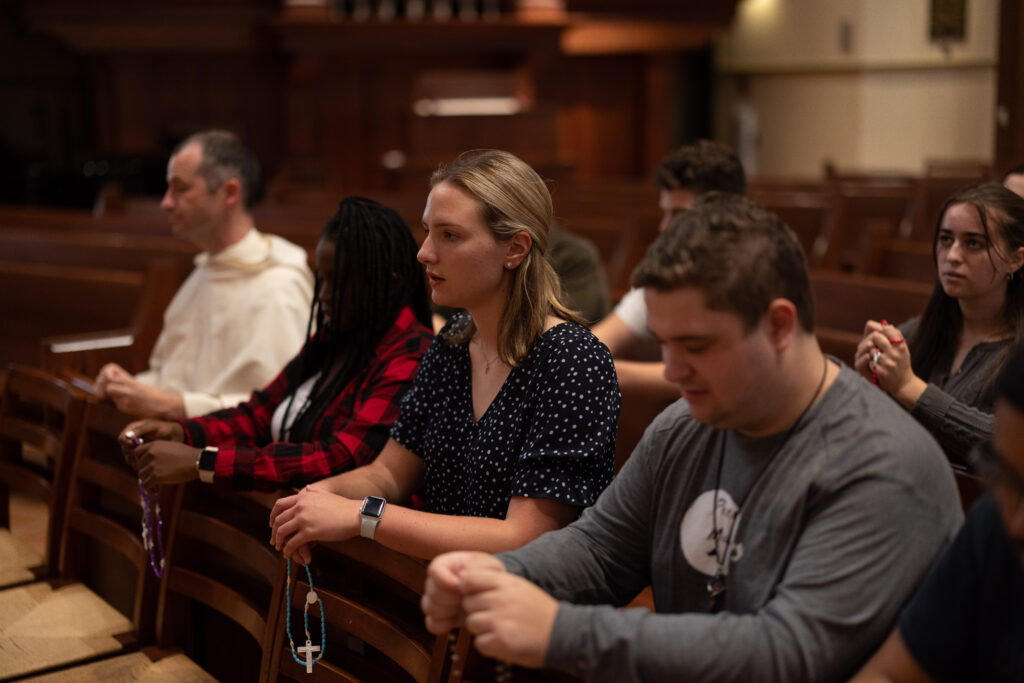 The connections that Liz Duffy '23 formed during her first week on Providence College's campus convinced her that she had found a new home. Interactions with new friends and the Dominican friars reignited her faith, led to her decide to major in both theology and humanities, and encouraged her to apply for a summer fellowship in Switzerland.
Although Liz comes from a distinctively Friar family, with both parents and two of her five siblings PC alumni, she did not initially have her heart set on Friartown. Her plan was to study at PC for a year and then transfer to another college.
After a week in FaithWorks — a pre-orientation, service-immersion program in which incoming students perform service work for vulnerable populations in Providence while reflecting and building community — Liz called her parents and said she had changed her mind. She wanted to spend four years at Providence.
"It was the first time I met people who really had a deep sense of their love for God. It showed in their joy and their radiance. They wanted to talk about it, and they wanted to help you understand it," Liz said.
Raised in a large, Irish Catholic family in East Greenwich, Rhode Island, Liz considered herself an agnostic in high school. As an independent thinker concerned with finding the truth and grappling with deep questions, she enjoyed long talks at PC with friends. Many conversations took place around the flame statue in Calabria Plaza, the embodiment of the college's motto, Veritas – truth, symbolized by a torch.
Liz also found support from friars on campus — members of the Dominican Order of Preachers, which founded and continues to staff PC.
"They had the answers to my questions, and they taught them to me in a way that was caring and allowed me to continue asking questions," she said.
Liz was well prepared by her studies to earn a Father Smith Fellowship for Service and Study Abroad. She served as an intern with Dominicans for Justice and Peace, a delegation to the United Nations Human Rights Council in Geneva, Switzerland. She attended sessions at the U.N., provided her supervisor with summary reports, and even drafted a presentation for the Order of Preachers' general chapter on how their charism, or mission, informs their work at the U.N.
For two years, Liz was a peer minister through Campus Ministry. This year, she is president of the organization. When she is not in the classroom, St. Dominic Chapel, or the U.N., she can be found on the basketball court as an intramural 3v3 basketball champ.
Listen to a PC Podcast with Liz:
Students awarded Father Smith Fellowships for Study and Service Abroad have spent a portion of their summers in Africa, the Solomon Islands, Australia, and Costa Rica, among other locales.
Learn more about the tradition of spirited intramural competition at Providence College, and why a championship T-shirt is so cherished.
Meet classmates before the start of your first year and learn more about service in the community through FaithWorks.