Traditions at Providence College
At Providence College, you'll make memories through our many traditions. And some of your memories may become new traditions themselves.
Until 1970, first-year students at Providence College received a hat upon arrival — a black and white beanie that they were expected to remove out of respect whenever they encountered a senior on campus. Nowadays, we don't make anyone wear hats, and most of your interactions with seniors will come when they hold doors for you or help you find your next class.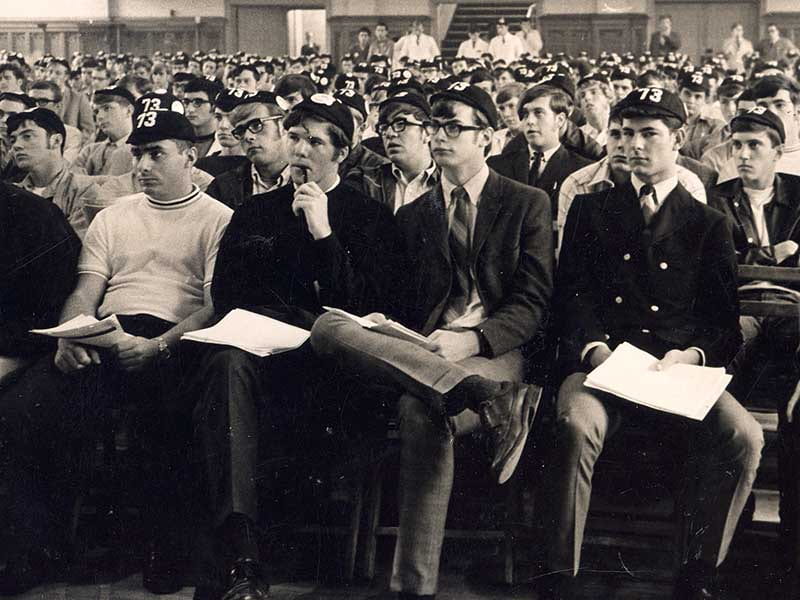 You're still given something to wear, though, but not for another four years. At a Mass with your classmates, you'll be given a black and white tassel. You won't need it until graduation, but you'll carry it with you to remind you that your college experience is more than the diploma at the end — it's the sum of the memories made along the way. Start making them.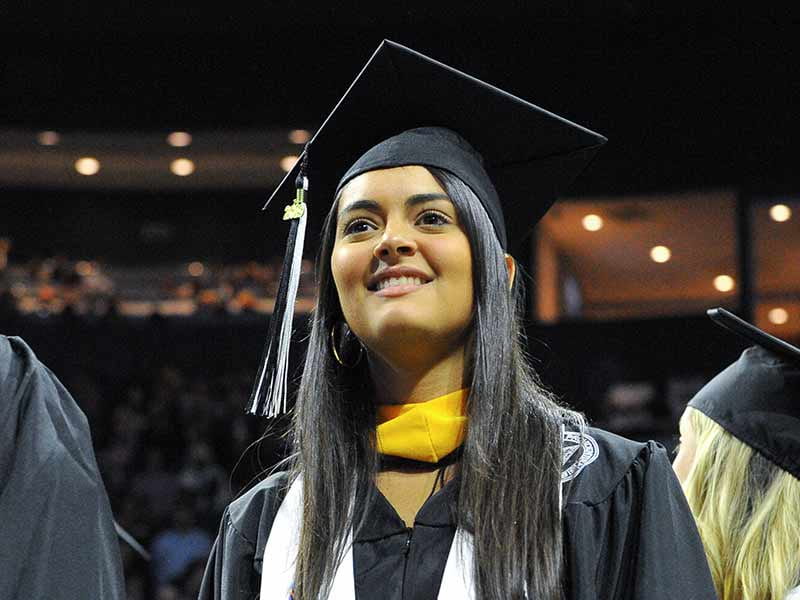 Explore Friar Traditions
Alma Mater: "We proudly pledge to thee …"
Set to a movement from "Finlandia" by Finnish composer Jan Sibelius, the Providence College alma mater is a hymn of thanksgiving for and confidence in divine providence. Don't worry, we'll never force you to sing it, but believe us — by senior year, you'll sing lines like "naught can us e'er beguile" with pride.
The Providence College Alma Mater
Lyrics
Mother of Truth, we proudly pledge to thee
Undying love and steadfast loyalty.
From thee we learned the wondrous work of God,
His goodness, grace, and holy power;
Clear has thou shown what pathways must be trod;
All fearless now we brave life's hour!
Though failure frown, though kindly fortune smile,
Firm our advance, naught can us e'er beguile.
To honor bound, to love and virtue sworn,
Lift we our voices in full acclaim
Our lives shall thee with noble deeds adorn;
Hail Providence! We praise thy name!
Done with Civ? Never.
Development of Western Civilization is a shared academic experience that is both rigorous and rewarding. At the end, students celebrate their achievement with a Done With Civ celebration — though, really, you're never done with Civ.
The Dominican Difference: More Than A Mascot
Providence College is the only college in the country administered by Dominican friars. For more than 800 years, Dominican friars have shared the fruits of prayer, contemplation, and inquiry guided by complementary faith and reason through preaching and teaching. Some 50 Dominican friars and sisters live, teach, and minister to students on campus.
Game Day: This is Friartown
The Friars take the court (or the rink, or the field) as the student pep band strikes up "When the Saints Go Marching In." The men's hockey team nets the puck to punch their ticket to another Frozen Four. You storm the court after a buzzer beater to celebrate with the team. You'll witness Friars history, and you'll never forget how it felt to be there.
Homecoming: Home is Where the Friars Are
Each fall, thousands of students, alumni, siblings, parents, professors, pets, and friends gather on campus for Homecoming Weekend. Anchored by special events including the Friar 5K and Late Night Madness, the weekend includes programs for first year students and their families. Introduce your family to your new friends and show them around your new home as you enjoy the fall air and Friar spirit.
Intramural Sports: Serious Fun and Games
The most coveted piece of clothing on the PC campus? An intramural championship T-shirt. More than half of all Providence College students take part in at least one of more than 20 intramural sports and the competition is fierce — and fun.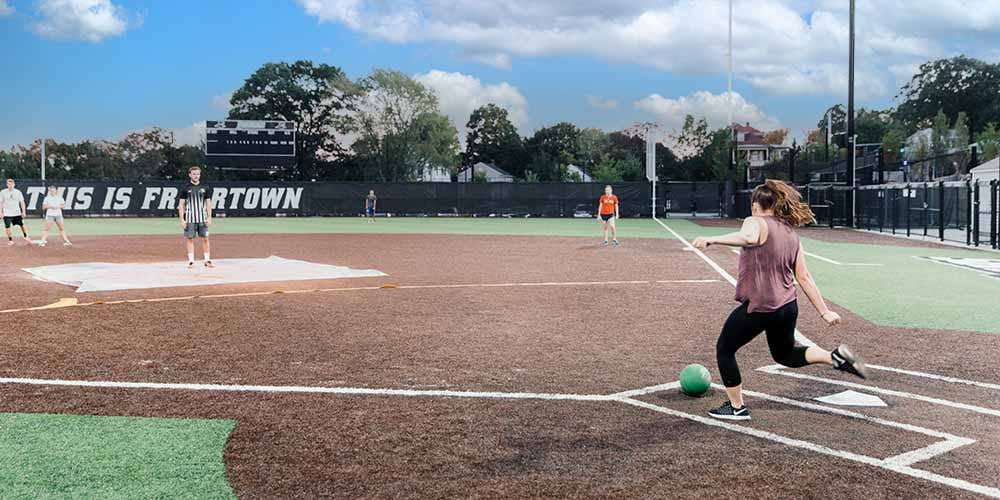 Last Chance Mass: Prayer in Prime Time
Celebrated on Sunday at 10 p.m. in St. Dominic Chapel, the final Mass of the weekend is the best-attended, perhaps because of the sense of community and the come-as-you-are atmosphere. Afterward, students gather for food and fellowship at the Post-Mass Bash.
Late Night Madness: Sheer Madness
Since 1985, one Friday night each October is re­served to celebrate the start of the basketball season. Part pep rally, part dance competition, part basketball practice, and part concert, Late Night Madness unites Friar fans in a frenzy of anticipation and school spirit. Past performers have included John Legend, Lil Uzi Vert, Ludacris, and Shaquille O'Neil (yes, Shaq DJs).
Mascots: Huxley and Friar Dom, BFFs
Peanut butter and jelly. Spaghetti and meatballs. A Dalmatian and a Dominican. That's right: There's no better pair than Huxley and Friar Dom: PC's dynamic duo and mascot pair extraordinaire. They'll pump you up for basketball at the Dunk, take you for a spin on the ice at Schneider Arena, and school you on that famous #FriarPride.
MLK Convocation: A Beloved Community
Each year, Providence College honors the legacy of Rev. Dr. Martin Luther King Jr. with a special convocation featuring a distinguished speaker. Speakers have included Rev. Bernice King, daughter of Rev. Dr. King; activist and six-time NBA champion Kareem Abdul-Jabbar; Rev. Nontombi Naomi Tutu, daughter of Archbishop Desmond Tutu; and Ndaba Mandela, son of Nelson Mandela.
Senior Ring Weekend: Ringing in Senior Year
Senior Ring Weekend is a rite of passage for Providence College seniors, with a semi-formal night, a black-tie ball, and the blessing and distribution of class rings. As one of the first major events of the year, Ring Weekend has become a reunion of sorts and a preview of good times to come. Designed by students and incorporating symbols unique to each graduating class, a PC ring is always more than a piece of jewelry — it's a tangible reminder of four years well-spent and an heirloom for generations of Friars.
Student Media: On the Record
Student broadcasting and publishing are traditions almost as old as the College itself. The Cowl, Providence College's newspaper of record, was first published in 1935. WDOM radio hit the airwaves in 1949. Friars also enjoy — and run — PCTV, The Alembic literary annual, Veritas yearbook, and other media.
Become part of the tradition.